Fans of ACOTAR, From Blood and Ash, and Fourth Wing will relish this new adult multi-realm fantasy full of vampires, dragons, fae, angels, and elementals by International Bestselling Author Stacy Von Haegert
Synopsis from Forged of Fire, Book One
Long revered as one of the realm's most lethal warriors, Ashdon LaGoryen now prefers a solitary life. Far removed from his volatile past, he has no interest in returning to the station of his royal birth. But when an ancient prophecy comes to light at the onset of war, he finds himself reluctantly dragged back into the world of his ancestral bloodline- House of the Dragon. 
Twenty-one-year-old Kielyn Allister just wants to finish art school, but when she is threatened on campus one night, all her plans go up in smoke. Literally. She wakes to find herself surrounded by creatures found only in storybooks. And the most dangerous of them all, an alluring vampire with the ability to control fire, is to be her new teacher. Her king.
And her mate…
As Kielyn and Ashdon adapt to their new roles, their feelings toward each other grow from begrudging obligation to scorching passion. But there are more sinister forces at play, and an ancient legend seeks to divide them. They must risk everything if their love and the realms- human and immortal alike- are to survive.
SPOILER ALERT – This synopsis contains spoilers. We suggest reading Forged of Fire, Book One before reading this synopsis. 
Dreams are forged among the stars. Fate is written beneath the scars…

As the younger brother to the King of Angels, Stefen Von Emmerich spent his life resenting his royal obligations and doing the exact opposite of what was expected of him.

At least, he did… Before he had the misfortune of being killed.

Now a Fallen, a hybrid with his maker's famed dragon blood coursing through his veins, Stefen must rediscover himself, and his awakening powers, in a new court. As an emissary of the Fire Dynasty.

Merick Freyburg has always been different. In Gerra, a realm that measures itself on brute strength and razor-sharp cunning, she falls miserably short in both. Still, she keeps trying, training, and pushing herself to one day measure up. To find her place among the other elite. But during a chance conversation with a mysterious representative from Earth's realm, Merick begins to question everything she thought she knew. Everything she thought she was.

There is little time for reflection—or the temptation to throw down and ravish the beautiful emissary warrior tasked with protecting her—when the realms are at war.

Appalling revelations are revealed, atrocities so heinous they can only be made right with blood and fire. When evil once again rears its ugly head, threatening everyone Stefen and Merick hold dear, they must act quickly, navigating a web of dark secrets, epic mounting powers, and an undeniable connection so strong it could only be…

Forged by fate.
The White Rose trilogy is set in the Victorian era and follows the lives of three charismatic siblings. Newly arrived in London, from New Orleans, Louisiana the Kingston family takes everyone in the Bon Ton by surprise. Join each in their individual pursuits of love, as they navigate unprecedented obstacles. Escape into a world full of masterfully tailored suits and glittering ball gowns. A time when romance bloomed around every corner and danger lurked behind every well-placed smile. Stacy Von Haegert eloquently paints a riveting story of romance, mystery, suspense, and laugh-out-loud humor throughout this three-book series. Read them for yourself to see why they made her an International Best-Selling author.
Fans of Bridgerton and Outlander will love this richly textured and adventurous New Adult Historical Romance by International Bestselling Author Stacy Von Haegert!
What if supernatural beings lived amongst mere mortals? They could be your neighbor, your boss, your lover, your pastor, or even yourself. Would you be surprised? They might ask you to stand up and fight with them, against an evil that could destroy everything and everyone. Would you? I suppose the choice might be easier if the vampire asking was tall, dark, devastatingly handsome, and one of the most powerful forces to walk the night…and day…
The Forged series takes us on a hypnotic journey that challenges our deepest beliefs. What exactly defines our notions of Heaven and Hell and what separates folklore from reality? An exhilarating adventure where angels, vampires, elemental-dancers, and dragons spin a world full of intrigue, fantasy, and romance.
A Historical Romance 
– Stand Alone –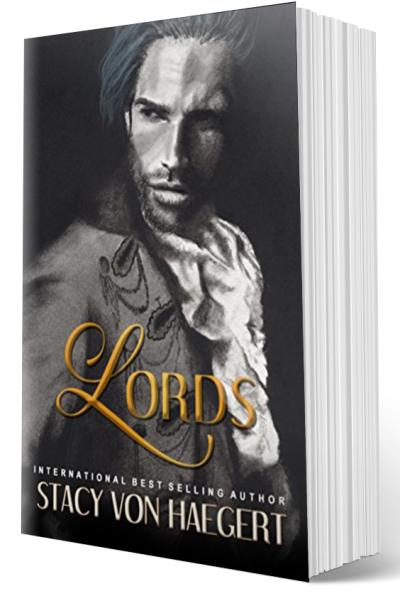 When tragedy strikes, taking with it the only family Anastasia Lintel has ever known, she must adapt to an unexpected new life. 
London 1830…
Anastasia never wanted for more than a simple existence, arranging flowers in her father's shop, catering to the soft-palmed elite. However, Nathaniel Fitzpatrick, Duke of Avondale, descends on the flower shop like an invading storm, removing Anastasia from her ordinary world with little explanation, and thrusting her into his extravagant life.
She quickly realizes the Duke is the least of her troubles when she meets his four scandalous brothers. Each sibling is rivaling in intensity, physical prowess, and the unrelenting quest to see her gone, but none is as dangerous as their leader, Clinton Fitzpatrick.
With their wealth, power, and mystery, these Lords set a stage that is far from ordinary. Anastasia could lose herself in their glittering world that is anything but what it seems. She must be able to survive them until she turns one-and-twenty, or gets married, whichever comes first.
Anastasia's litany of questions regarding The Duke's guardianship over her will have to wait while she tries to figure out how to manage her new role and the tormenting Lords that come with it.